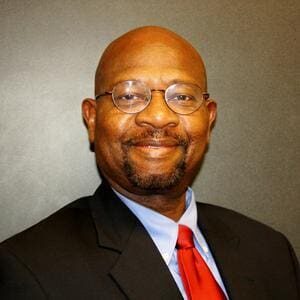 Muhsin Shaheed has been a chaplain with DFW International Airport Interfaith Chaplaincy, since September 1998. He is also an educator with Fort Worth Independence School District, since February 2001.
Chaplain Shaheed earned an Associate Degree from TCC (formerly TCJC) in Fort Worth, Texas in May 1986; a Bachelor Degree in Criminal Justice with a Minor in Social Work from Texas Christian University (TCU) in Fort Worth, Texas in December 1992 and a Master Degree from TCU in December 1994; he earned a second Master of Arts Degree in Islamic Studies from Cordoba University's Graduate School of Islamic and Social Sciences in Leesburg, Virginia in July 2004 (an affiliate of the Washington Theological Consortium, with ten member Methodist, Catholic, Jewish, Muslim and Presbyterian – as well as two affiliates, which are either non-Christian or interfaith theological institutions). He completed 33 hours for his doctorate in "Islam in America: in specific in the African American Community from 1930 to 2008." Additional education includes: 15 credit hours in Humanities toward a doctorate at UT Arlington in Arlington, Texas and its sister's Institution, The International Linguistics Center in Duncanville, Texas and 12 hours in Theology/Semantics, Hebrew and Pastoral Care at Brite Theological Seminary at TCU. He graduated from Simon Wiesenthal Center of the Museum of Tolerance and the National Institute against Hate Crimes & Terrorism in Los Angeles, California, January 2007. He earned 6 credit hours in the Arabic Language 1 and 2 from The Institute of Arabic and Qur'anic Sciences in Fairfax, Virginia in the spring of 2004. In the summer of 2008, Chaplain Shaheed studied Classical Arabic and Tajweed (proper Qur'anic recitation) in Cairo, Egypt at Al-Azhar University.
Muhsin traveled through Nigeria, Ghana and Turkey. He completed both Ummrah and Hajj in Saudi iArabia in 2000 and 2016, respectively.
He conducts weekly Jumah Prayer Service at DFW International Airport (Terminal D Gate 21) and he has lectured at synagogues, churches, mosques, universities, schools, etc., speaking on Islam, promoting diversity and commonality in religion.
He edited 4 books, the most recent for Dr. Yushau Sodiq, Professor of Religion at TCU: An insider's Guide to Islam and The 40 Hadiths: An Explanation.
Shaheed is a native Texan and he is actively involved in the interfaith community; working with Muslims, Christians, Jews and other faith peoples to build bridges of tolerance, respect, understanding, harmony, cooperation, etc., to build a better society through our common bonds for human dignity, the good of humanity.